The Gabo Trust is inviting grant applications from conservators of modern and contemporary sculpture towards attending the following two conferences.
NACCA Symposium
Bridging the Gap: Theory and Practice in the
Conservation of Contemporary Art
Maastricht, 24-27 March 2019
An exploration of the growth and possibilities of collaborations between conservation professionals and academic researchers. For further details please see the website here.
Deadline for completed Gabo Trust grant applications:
Friday 11 January 2019.
4th ICON International Conference
New Perspectives: Contemporary Conservation
Thinking and Practice
Waterfront Hall, Belfast, 12 - 15 June 2019

Discussions and debates on the latest research, practical applications and innovative thinking across the sector. More information from the event website here.
Deadline for completed Gabo Trust grant applications:
Friday 5th April 2019.

Details of our continuing professional development grants can be found here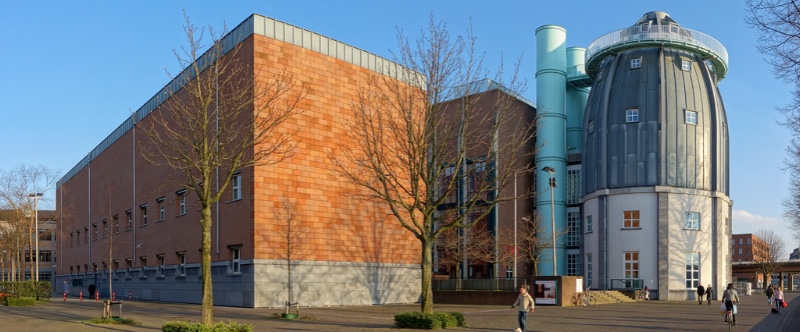 Recent grants awarded
AIC Conference, 'Material Matters' in Houston
Tamar Maor (Tate) and Don Sale (independent conservator) attended the AIC Conference. Tamar presented her research on, and treatment of, Eva Hesse's Addendum, undertaken as part of the NANORESTART Project. Don Sale's research paper was 'Investigating Conservation Materials for Painted PMMA: Comparing Aging Environment Impact with Nano Thermal Analysis'. Both presentations were very well received.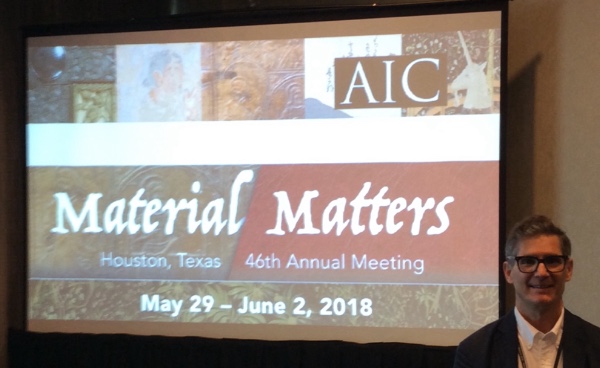 Above: Don Sale at the AIC Conference
Bronze Patination Workshop at North Carolina Museum of American Art
Dorothy Cheng, the 2017-18 Lunder Fellow in Objects Conservation at the Smithsonian American Art Museum, participated in this bronze patination workshop. She commented 'With the support of the Gabo Trust, I feel better prepared to carry out the patination tests for my technical study of Paul Manship bronzes, expanded my professional network, and laid some groundwork for future research. An excellent outcome for three days!'
IIC Congress, 'Preventive Conservation: The State of The Art', in Turin
The Gabo Trust grant aided four conservators to attend the above conference: Daniel Bone (Head of Conservation, Ashmolean Museum); Mark Kearney (PhD Student, UCL); Nadia Silva (Research Fellow at Escola Superior de Biotecnologia, Portugal); and Serena Vella (Freelance, Rome).

Daniel Bone commented 'I will be making use of the contacts and research I have learned about during my fascinating week in Turin... Since the Congress I've shared the preprints and met with colleagues in the Ashmolean and across the University to produce a list of research questions that we can send out to different departments... as they prepare students to select their MSc projects.'

The abstract of Mark Kearney's poster presentation, 'Characterisation of VOCs Surrounding Naum Gabo's Construction in Space 'Two Cones' (Tate) by in situ SPME GC-MS Monitoring', now online, is one of the highest viewed articles from the Congress.
Nadia Silva is a PhD student researching the applications of biotechnology and nanotechnology in the preventive conservation of heritage. Together with her supervisor, she presented the strategy and preliminary results of the BIONANOSCULP project, which has been published in a special issue of Studies in Conservation.

Serena Vella's poster presentation on 'A Planned and Preventive Conservation Project for The Tarot Garden by Niki De Saint Phalle' was given a special mention by the IIC President.
Above: Card VIII: Justice by Niki de Saint Phalle
Sculpture surveys
Following their highly successful Modern and Contemporary Sculpture Collection Survey, grant aided by the Gabo Trust, Leeds Museums and Galleries have been awarded an equipment grant by the Trust. This will be put towards the purchase of Utz containers and Plastazote foam lining as a method of preventive conservation which will also increase storage capacity and provide a means of safe travel to loan exhibitions.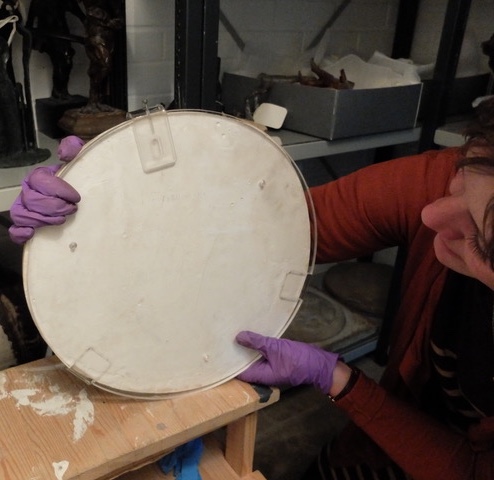 Above: Conservator Laura Davies working in the store at Leeds Museums and Galleries
The most recent Gabo Trust Sculpture Survey Grant has been awarded to LU Arts (Loughborough University Sculpture Collection). Most pieces, which date from the early 1960s to the present day, are displayed in the open and are accessible to the University's community as well as members of the public. Twenty important works, which require more detailed conservation reports, will be examined with the help of this grant.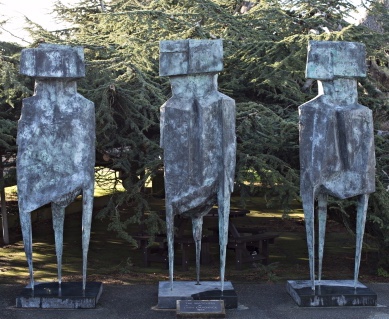 Above: 'The Watchers' by Lynn Chadwick, part of the LU Arts Sculpture Collection
Details about our sculpture survey grants can be found on our website, here, and details about our equipment grants for museums and art galleries can be found here.